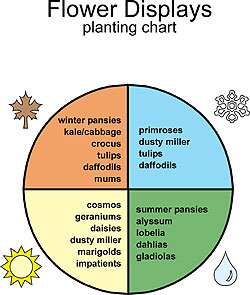 Flower Displays are meant to impress, after all, who doesn't want an oasis to call their own? All over Washington, homeowners, businesses, and HOAs have enjoyed vibrant colorful flowers throughout the year. Whether you entertain, enhance business appearance, or just enjoy a beautiful landscape, consider our professional flower displays.

The "Sure Lawn" flower display planting chart is a great indicator of what and when to plant. Keep in mind that warmer or cooler than normal seasons can affect what flowers will be most suitable at a given time. We often suggest utilizing a variety of perennials and bulbs in addition to annuals. This brings down the cost of each seasonal display as well as increases the dimension of plant textures and colors.

Great flower displays use plants that compliment each other. flax has a smooth glossy look while Dusty Miller has a fuzzy velvet dull look. Now that we have a balance of lines and textures, colors become very important. Warm colors compliment cold colors and vise-versa. In the case of Red/Burgundy Flax and Grey Dusty Miller, they each make the other stand out.

Find out what combinations work best with your favorite flowers or colors by contacting a "Sure Lawn" representative for a free consultation and free estimate.